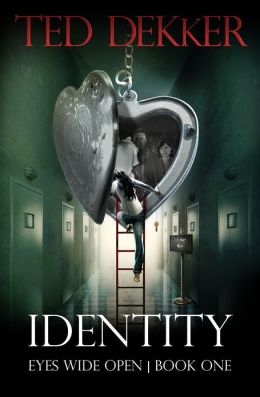 It's been quite a while since I read a novel by Ted Dekker, partly because my to-read pile is threatening to overwhelm me and partly because I was left somewhat flat by the second installment of his joint venture with Tosca Lee in the Book of Mortals. The jury is still out for me as to whether that series failed to grab me because I expected something to match the Circle or because what we got was a continuation of the Circle disguised as something new.
With that off my chest, book one of Eyes Wide Open is a winner so far. I say so far because Dekker is offering this novel in four installments. I enjoyed the frantic and escapist tale as it unfolded in this first installment. At the same time I had to continually work to get the bad taste out of my mouth about the marketing of this book. But more about that later.
Identity is the story of two characters, both seriously disconnected from the people and society around them. Christe Snow (17) is a young woman with a largely missing past, illustrated in the silver locket she wears that contains nothing but stock photos. Austin Hartt (19), her only real friend, is a prodigy. His life consists of the books that surround him, auditing classes at Harvard though he's never enrolled, and the realization he may have a tumor threatening to destroy the intellect he so cherishes.
When Christie returns to an abandoned hotel basement to search for the cherished locket she somehow misplaced, she finds the fragile identity she so carefully protects threatened in ways even she, with all her insecurities, could have never imagined. First trapped in the abandoned basement she breaks through an old wall to find herself in the hallways of St. Matthews's psychiatric ward. Soon she and then Austin who comes looking for her, find themselves trapped in a nightmare of different sorts. Both she and Austin are labeled as delusional patients with different names and their own identity effectively erased.
Since this is in essence only the first few chapters of what will be a complete novel, I will withhold questions about plot issues for now. This has a definite YA feel and since I don't read a lot of Young Adult fiction I also won't judge the story by its style. So far it's a story that's both entertaining and that compels you to keep turning pages to see what will happen to Christie and Austin as they struggled to hold on to their identity.
Now back to that lingering taste in my mouth I can't quite get rid of. Besides being a writer, I am also involved in marketing and it is there that Eyes Wide Open uses a risky and to some a bit shady ploy. For weeks Dekker advertised this as a "ground breaking" method of telling story. Bold promises were made to recapture the story telling spirit of The Circle. In fact, I along with thousands of others signed up to receive Identity free. We were told it was the first of four books, each complete in itself, that would tell one unified story. And nothing could be further from the truth.
Identity ends with nothing complete in itself. I received at least three emails after signing up trumpeting the day I could enter information to receive my "free" copy of Identity. Never once, until that day came was it identified as a Kindle version of what amounts to the first six chapters of an incomplete book.
There is nothing wrong with using a serial approach to get a story out there. In fact, Dean Koontz did this quite effectively with Odd Interlude. The difference in the two is that Koontz never presented the three installments of Interlude as anything besides what they are: three parts to one story none of which stand alone in any way.
Eyes Wide Open is a good story but there is nothing ground breaking about how it is being doled out. Dickens was found in installments in London newspapers long before they became the classic books we know today. Same goes for Louisa May Alcott, Isaac Asimov, Philip K. Dick, and a host of others.
Nevertheless, even though I am a marketer and understand how I was manipulated, I quickly bought the second installment of Dekker's new work and am set to read Mirrors this afternoon. Perhaps, like Christie and Austin, I am a puppet in Ted Dekker's maniacal hands. Or perhaps I just like a good story and so far this one is. Toothpaste can do wonders for a bad taste in one's mouth but a book with no story cannot.
_____________________________________________________________
TED DEKKER is a New York Times bestselling thriller author. Heralded as a "master of suspense" by Library Journal, Dekker has sold millions worldwide, establishing himself as one of the most widely recognized author brands.Ted Dekker's fans are comprised of readers of all ages, backgrounds, and belief systems who love his compulsively readable stories, authentic characters, and universal and relatable themes that he explores from a unique point of view.