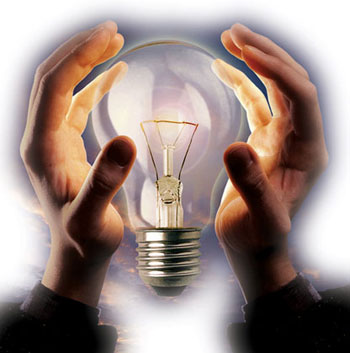 Before I read Jack Foster's little gem of a book, How to Get Ideas, I was under the misconception that the general population suffers from a serious shortage of ideas. One need only watch Jay Leno's Jaywalking segments where he asks average people questions an educated turnip should be able to answer to get the same impression.
In fact, it almost seems our culture sees merit in lacking any original thought at all. This led Kent Ruth to observe, "Men can live without air for a few minutes, without water for about two weeks, without food for about two months – and without a new thought for years on end."
Foster writes from an advertising background so he naturally places a high premium on ideas. They are, after all, the currency of Madison Avenue. Where one gets ideas and how one keeps on coming up with them is the subject of his work. Some of the more choice quotes from How to Get Ideas include:
The best way to get an idea is to get an idea.– Cliff Einstein
The best way to get a good idea is to get a lot of ideas. – Linus Pauling
Due to rising energy costs, the light at the end of the tunnel has been turned off. – Unknown
While I find Foster's thoughts worthwhile, I wonder if a lack of ideas is at the heart of the problem for many creative types. And by the way, Foster rightly says everyone is a creative type. Even puppies have ideas. If I could introduced you to our new 8 week old Shi Tzu / Chinese Crested Powderpuff you would know what I mean. Man has he got ideas!
Jeff Goins believes the problem for many of us is not a lack of ideas but rather too little focus on a few right ones. In his, You are a Writer, he effectively debunks the myth of multitasking.

The myth goes like this: "You have to be everywhere."

That's ridiculous.

You know who says that? People who are always responding to the latest trend. I know this, because I was one of them.

When I started writing every day, I realized a painful truth: I can't react and create at the same time. Neither can you.

Our brains don't work well when we try doing too many things. Though we may have eclectic interests, we can only do one thing at a time and do it well.

Multitasking is a myth. You can either create or react. But you can't do both. Choose wisely.

It's hard to say no, but it's even harder to spin your wheels. To waste your creative energy on frivolous things like an endless series of check-ins.

Jeff Goins – You are a Writer
I'm guilty with the worst of them of having too many ideas, and not the just mediocre run-of-the-mill variety. When it comes to vivid storytelling, imaginative scenarios, and just plain jam up good sounding ideas, I'm loaded with them. And characters aren't hard for me to come up with either. There's at least a hundred or so running lose in my head right now.
Too many ideas! How many are too many? The answer is simple: when I am not acting on any of them effectively. I short-circuit the process when I continually give birth to thoughts I don't give the proper time or energy to nurture, mature, and send along their way full-grown. People with a head full of great ideas are in abundant supply. Those who know how to be a proper parent to them are rare.
My goal for now is to take a few good ideas and give them my relatively undivided attention. Relative because life has a pesky way of demanding our attention no matter how focused we may intend to be. I am determined to give multitasking a rest. Nothing will deter me from this goal. Unless, of course, this 8 week old Shi Tzu / Chinese Crested Powderpuff at my feet insists on being the center of attention. One does have to set priorities you know.
So what kind of idea parent are you? Any orphans out there? Now what?